Mickey Death Exhibition Now Open!
BACS is pleased to announce the Opening of Mickey Deaths Exhibition AND the phased reopening of the Gallery for normal attendance (the new normal at any rate)
Beginning July 2 you are welcome to return to the gallery.  Access will be restricted and some services limited, but we are coming back!
Click here to see amazing work by and talented and amazing artist's first exhibition.
Be prepared to be amazed.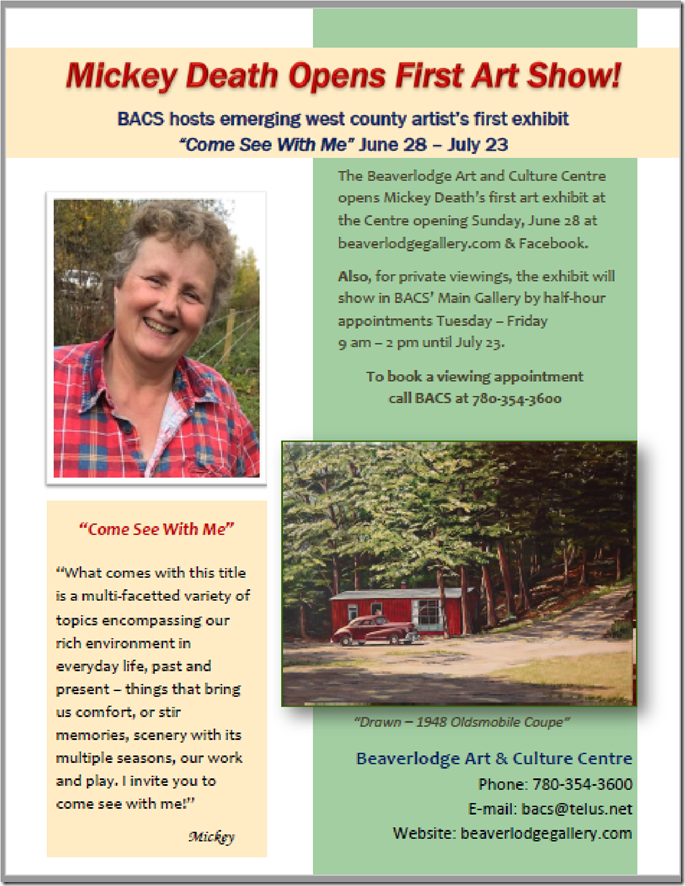 Activities and Spaces at BACS
Dates & Hours of operation:
BACS is presently closed due to COVID-19
When we return our hours will be.
Tuesday through Friday 10:00 am – 4:00 pm
Saturday & Sunday 1:00 pm – 4:00 pm
Closed Mondays and Holidays.
Come discover how this historical building (first Beaverlodge hospital) has been transformed into a vibrant community Art Gallery and Cultural Centre. The building features 2 display Galleries on the main floor, a gift shop showcasing local artists and crafts people, a Tea Room and on the lower floor potters and weavers have spacious work rooms. The Cultural Centre offers great instruction in a variety of arts and crafts, including pottery, weaving, stained glass, drawing, painting, felting, etc.