As far back as the early 1930s Euphemia McNaught had gathered around her groups of women who were interested in art and wanted to learn to paint. It had always been a dream of hers that someday there would be a special place where artists, and would be artists, could gather to work and share their work and ideas.
In 1989 this dream began to become a reality when the old Beaverlodge Hospital (built in 1937-1938) was to be demolished to make way for extensions on the present hospital. Under the leadership of Doris McFarlane, a group began to plan how they could preserve that historical old building, and rejuvenate it into a viable Cultural Centre for the area. By 1990 they had raised enough money to build a $40,000 basement, and another $40,000 to move the edifice from the north side of town to the south end. Then began the renovation work. Volunteers were numerous and faithful, but again more money had to be raised to install the plumbing, the electrical wiring, and fixtures. Some of the plaster on the walls had to be replaced, and the fir flooring was scraped, scrubbed, and re-waxed.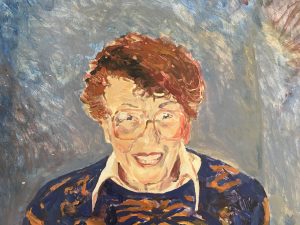 When the interior was repainted a new heart had been put into the old building, and new enthusiasm into the spirits of the volunteers. Old window frames and sashes were scraped and the windows washed, also the old plumbing was replaced.
The huge basement area was portioned to make large workrooms for the weavers and potters and for an archives room. Of course a bathroom and furnace room had to be provided but all was in place for the official opening in September 1992.
Bursting with pride, we turned the lady's ward into our Main Art Gallery, the operating room and obstetrics room is now a gift shop, the old nursery is our office, and the men's ward has become our famous Pink Tea Room.
The kitchen had adequate cupboard space, and the addition of a new sink was all the Board of Health asked of us. After operating for many years, we have acquired recognition for efficiency and dependability. We serve the children of the area with art classes. Pottery and weaving classes can be had when there is a demand for them. Art classes are held regularly in the upstairs Art Room for both children and adults, classes that are often tailored to the capabilities and experience of the artists. Our gallery is available to all artists. Wood carvers, weavers, potters, and quilters, etc. all find a place to display and sell their work. Folks who enter our doors are hospitably greeted, allowed all the time they like to become acquainted with our facility, and are encouraged to stop for a spot of tea in the Pink Tea Room.
Euphemia McNaught can be proud that she has inspired so many to do so much. Her work has been an everlasting inspiration to us all. We trust this Cultural Centre will continue to grow and be a living memorial to her and all of those who envisioned turning an old hospital into a vibrant, useful, and attractive addition to this area.
We are proud of our facility and extend a welcome to all who share an interest in art, culture and history. By Madelon Truax