Primary Medium
Painting, mixed media
Home
Beaverlodge
Active
1920-2000
Dates
1901/10/08 - 2002/05/17
Life and Work
Euphemia (Betty) McNaught is one of Canada's hidden gems. Professionally trained and deserving of a national reputation, she chose instead to live and work in the remote Peace River country of Northern Alberta, far from the art world of Eastern Canada.
Betty was born on October 8,1901 in Glenmorris, Ontario, a descendant of early pioneers and Empire Loyalists. Her great-grandfather had come to Canada in 1834 and settled along the Grand River near Brantford. In 1911 her parents, Charles and Eliza (nee Connor) McNaught, followed Betty's uncle Samuel and joined the second wave of settlers from Central Canada to homestead in the Peace River District.
The McNaughts were among the very first families to acquire a homestead in the fertile land near Beaverlodge Alberta, and purchased an additional two quarter sections using South African scrip.
Betty's artist talent was evident from an early age. While boarding in Calgary for a year of Normal School she received encouragement and her first art lessons from a local artist. This encouragement and the savings from teaching for two years at Appleton school in the Beaverlodge valley enabled her to enrol in the Ontario School of Art (OCA) in 1925.
Betty chose one of the most exciting times in Canadian Art to pursue her career. Teaching at OCA during this time were some of Canada's most famous artists. J.E.H. MacDonald, Arthur Lismer, and Franz Johnston, members of the Group of Seven, all taught classes during the four years that she attended. The teachings and example of Arthur Lismer was a particularly important influence on her own development. The strong foundation in design, bold colour given by the commercial art training offered by OCA as well as the emphasis on the the Canadian wilderness became the core of Betty's own art throughout her long and productive career.
After graduating in 1929, Betty taught for two years at the Mount Royal College in Calgary. After a brief stay at home in Beaverlodge, she returned to Ontario to teach at the Ontario Women's College in Whitby in 1935. With the death of her father in 1937 she returned to Beaverlodge and threw herself back into rural community life.
Although she had studied sculpture under Emmanuel Hahn, it was painting and mixed media that proved more feasible than bronze casting during the depression and war years that followed after graduation.
J.E.H. MacDonald's paintings had been inspired by Northern European Symbolist artists whose art he described as 'true souvenirs of the mystic north round which we all revolve.' This, he concluded, is what we want to do with Canada.' Betty embraced this aesthetic in her own art painting and fused the international symbolism, the Canadian Nationalism of the Group of Seven and translated it into an intense Regionalism of Northern Alberta and the Peace River Region.
During WWII Betty and her close friend Evy McBryan received permission from the Prime Minister of Canada's office to travel the Alaska Highway during its construction. The resulting paintings form a unique and extensive body of work comparable in historical value as those paintings done by Emily Carr on her trips north on Canada's West coast.
Throughout her long career Betty painted hundreds of paintings of the rolling hills, prairie lakes, and Rocky mountains near her home just south of Beaverlodge. Her love of rural life is documented in her numerous paintings of her horses and other animals.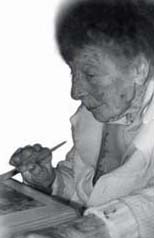 Betty's passion for sharing her art found an outlet in helping organize the Beaverlodge Art Club, the Peace Water Colour Society and provided the vision for the formation of the Beaverlodge Art and Culture Society. She was awarded the Alberta Achievement Award of Excellence in Art (1977) and the Sir Frederick Haultain Prize in recognition of a lifetime of service and exceptional accomplishment (1982). In 1985 the Alberta Society of Artists granted her lifetime member status.
Her teaching created a lasting legacy and has inspired generations of Peace County artists, forming a direct link from today back through Betty's poetic vision of Northern Alberta to Canada's Group Seven and beyond.